I guess it is pretty official – Cleo is loved by quite a number of people *Yay*
I just saw some of the pictures Cozycot uploaded on their Facebook so I grabbed them and thought I should share with you as it had been a long time since I last rambled nonsense on my blog.
Always a cool-lonely-daredevil, I strutted my way (without my trusty luggage) to the award ceremony held at Orchard Central alone in my lovely pink heels. Flustered in the crowd, I wasn't given a chance to cool down before a young boy approached me with a mike and asked "Hi, we would like to interview you on your thoughts about makeup and fashion." Let's just say I was a horrible interviewee and I wondered where did all the critical thinking I had learnt in NUS disappear to. It was like hearing my own mouth fell down the stairs.

*Eeee, yes I can't think properly*
Gathering the rest of whatever self esteem I had left, I sat quietly at the VIP area waiting for the ceremony to start. Two thoughts kept going through my head.
1. Cleo, please do not trip when you are on the stage. (Coz this had happened before)
2. Cleo, your mouth went bonkers but at least you color blocked. People, please notice I was wearing a lovely green dress with pink heels. Maybe people will think you are just a flat bimbo.
Anyway, I enjoyed the ceremony coz I was gorging my eyes out at the founder of Cozycot. She is very pretty and elegant. I think a lot of people can be pretty. Features can always be enhanced but elegance, the air around a lady, that is the part that could not be faked.  I admire her entrepreneur spirit and her beauty. All the more I cannot trip.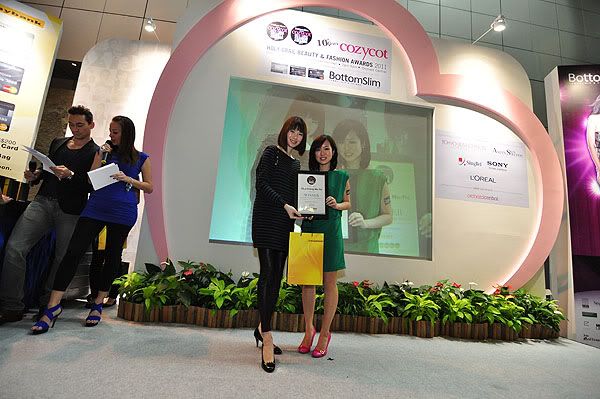 I had the pictures that I grabbed from their website photoshopped for the color. I am used to looking at my brides' pictures but for the 1st time to put Cleo Chang watermark over my face, that is a pretty weird feeling. Proud yet weird. I am unfortunately very un- photogenic. The camera just do not like my face and everything looks fat. I assure you, despite the phony smile, I am actually a very nice person. I just can't smile right. And no, I did not trip *ha*
Thank you Cozycot for the award for 100 most loved beauty professionals. This gave a me chance to meet the rest of the people in the Beauty industry. I am pretty sure there are many other beauty professionals who are great in their craft (like my hairdresser, oh ya, noticed my short hair? I loved it), I am just lucky to be chosen. I will treasure this award and moment but actually what I valued most will still be the appreciations from my brides. That beats all awards.