A few days left till CNY. Finally I have a few days left to take a breather.
I did not have the chance to admire the Christmas lightnings. I worked on New Year Eve and had my sentimental moment when I stood in lobby of Amara Sanctuary Sentosa after I finished the 2nd march in for my happy couple. Exactly 11 years ago, my friends and I were in Sentosa waiting to countdown. 11 years later, I was lugging my luggage anxious to go home. That carefree Wu-yin would not believe she would be Cleo Chang, the makeup artist. She doesnt have any ambitions at that time. All she wanted is to countdown to the new year. 27 years old me felt alittle overwhelmed with the new year instead. Why one year went by so fast? Then on 15th Jan 13, I announced my plan to go full time for my art. So many things in 3 months. Emotional coaster ride.
Again, 2012 had been more than kind to me. I made alot of wonderful friends and my brides are always so nice. I know i always say the same thing that it sounds almost scripted. But the truth is everyone has been very kind to me. I hope I have returned your kindness with my utmost efforts and sincerity. I couldn't have all the brides in my montage coz I have difficulties finding pictures that could fit in. But I thank every bride. 2012 wouldn't be so great without you.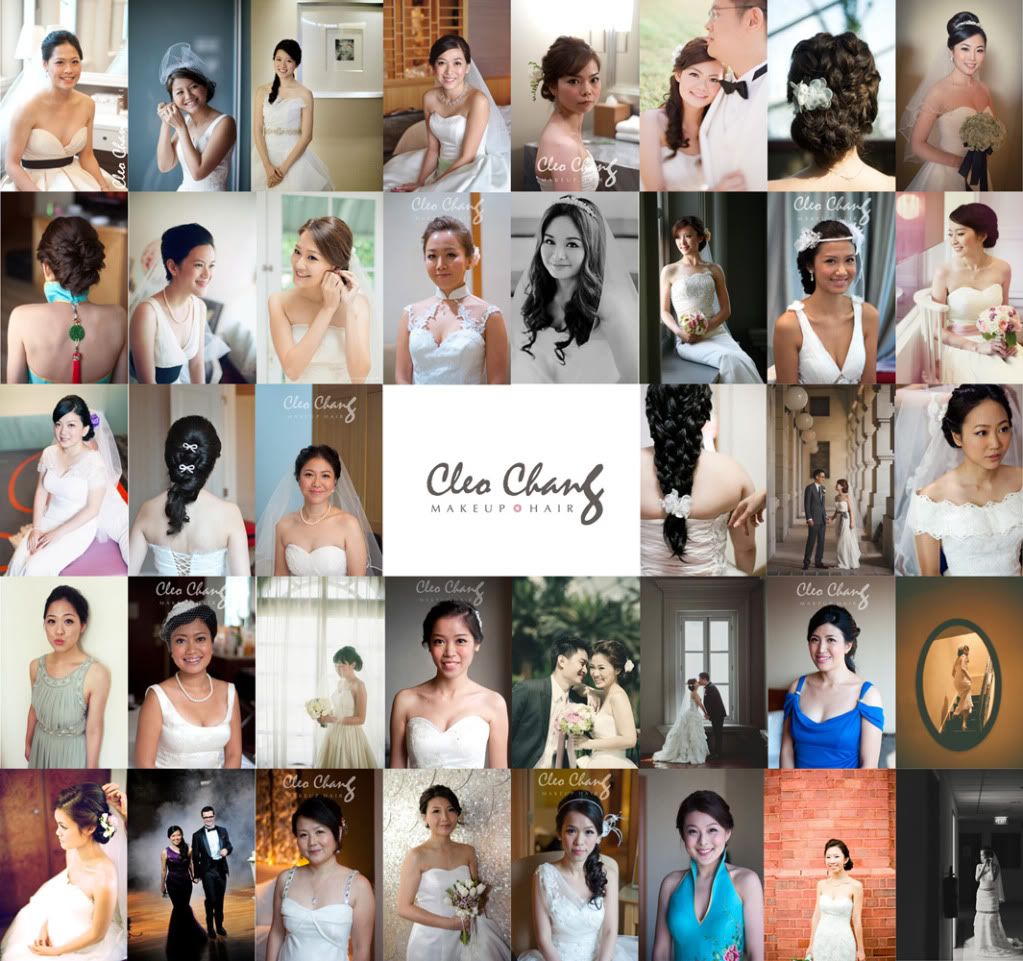 I re-looked at my reflections for 2011. For some reason, I can't seemed to be able to compile a list for 2012. Maybe too many things had happened or just too old can't remember whatever has happened earlier in 2012.
What I do remember for my personal life, I managed to have more time for my friends. Thank you especially to Karen for letting me back into your life without blaming me. *teary now* I sacrificed my time with my friends to build up my makeup career. I have always always feel apologetic and you girls – Lyn too, have always been on my mind even when I am in the toilet (most of the time actually as that is the only time I can reflect on myself). For my JC friends, thank you for always trying to find me to force me out. It was until I met a long-time friend in 2012 when he remarked I am more at ease with myself than in previous years before I realize how tough I was on myself and others. Thank you my loved ones for tolerating me.
Some of you might know that I took a short break from work to go back Taiwan for my mum. She fell sick last year. She is recovering now. Everyone has been very nice to accommodate with the changes of the time schedule. Very thankful for that. Treasure loved ones ok?
Then I took the plunge and turned full time for 2013. In my reflections of 2010, it seemed like everything in my work was not as rosy as it had been. Office politics made one very tired. Especially when I was the target for reasons that I could not help. I learned to take a step back and ignore all things. The past 2 years went by with no pain but a constant prick once in awhile when I see my colleagues being bullied. Soon, one of my dear colleague left us. Then, its time for me to leave too. Everyone was amazed why Cleo's job is so flexible. I always say, coz I have a very nice boss. Without his leniency, I wouldn't have the chance to take long leaves to travel back to Taiwan for courses. I would not have the chance to take on so many jobs to improve. Cleo Chang wouldn't be who she is now. Ironic I know. So from the bottom of my heart, I thank my 2 bosses who trusted me so much. It had been a wonderful 5 years of working with the two of you. And Jenny, thank you for being my side when all the saga unfolded. You protected me in your own way and is a real friend to me. Anne, you joined us alittle later but I hope our companionship had made life easier for you. Ah, 5 years… I can still remember my 1st interview and alot of the fun times we had. I feel so old already…
This is one heavy-hearted entry isnt? But it wasn't all bad news that made me take the plunge.
I started doing modelling shoots and turned my focus on bridal assignments for 4 years now. I have always love weddings. They are always so beautiful. Flowers, setups, wedding gowns (I love wedding gowns), breathtaking photographs and touching videos. I am very lucky to be soaking in the love, spirit and creativity of weddings every weekend. 2012 made me realize I do have the support and trust of many people. This is the right direction for me. When I saw that many encouragements and likes on my facebook announcement that I am turning full time, I feel so touched especially when it comes from brides who had engaged my services and peers in the industry.
Wansheng's picture had a double meaning for me. I laughed when I saw the picture. If you didn't know the story, my shadow is very encouraging, pushing me to the job that i love. It can also mean that person from the office pushing me out. Very apt picture indeed. How did you know?
I am always very serious at work and don't smile much. Yiting took this picture but I forgot what cracked me up. But this picture reminds me why I love my job.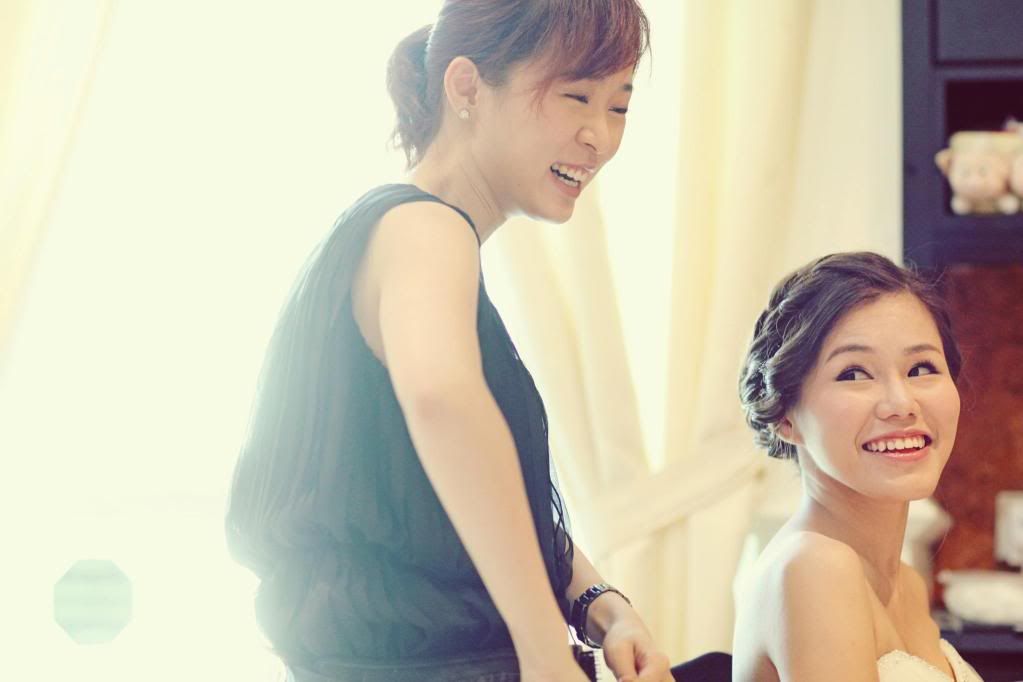 And in 2012, I finally plucked my courage and did what I failed to do in 2010.
So again, thank you everyone. I am marching on for 2013 with a lighter heart but with more determination :)